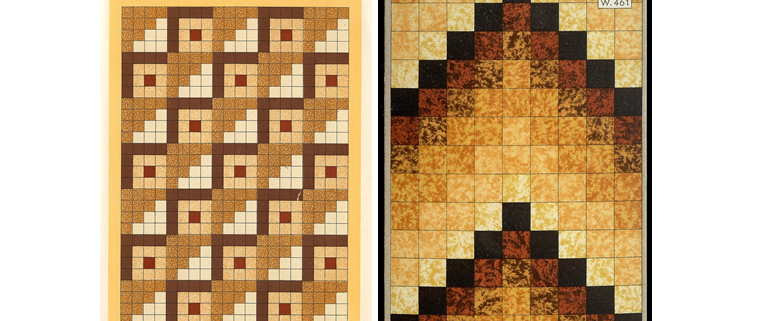 The Gilliot and Roelants Tile Museum is starting the 125th anniversary year of Gilliot & Cie with a new temporary exhibition that will be on view from the end of June 2022 to the beginning of June 2023.
This time the focus is laid on the Belgian tile production from the period between the two world wars. After the end of the First World War, changes in taste and affordability gradually led to a radical change in the tile range. The most successful manufacturers held up well and gained considerable international success during this period as well.
In the First World War, the Belgian tile industry had largely come to a standstill due to destruction and requisitions by the German occupier and a lack of orders. From the end of 1918, the machines in the various tile factories were restarted as quickly as possible. The reconstruction campaign in the 'devastated regions' required enormous amounts of building materials in a short period of time.
Initially, the tile producers hardly took the time to thoroughly renew the range of floor and wall tile decors.
New ideas about style – especially Art Deco and modernism – coupled with external factors such as rising wages and especially the financial crisis in the 1930s, brought a profound change.
Beautiful examples of this era can be found in the stunning collection of the Gilliot and Roelants tile museum. They are largely the work of Joseph Roelants (1881-1962), the most important post-war designer at the Gilliot factory.
The world exhibitions played an important role at that time. Gilliot Hemiksem impressed with his own pavilion at the world exhibition in Brussels in 1935. This small palace formed a harmonious synthesis of classical style and discreet art deco and showed many new applications for the ceramic material. It was therefore praised by various decorators and architects at home and abroad as one of the most successful realizations of the exposition.
The period between the two world wars is amply illustrated in the new temporary exhibition on the basis of various previously unseen tiles and panels from the Pozzo collection of the King Baudouin Foundation and the reserves of the Gilliot and Roelants Tile Museum, supplemented with unique photos and documents from the Gilliot archive and the archive of the gifted employee Karel Hadermann that, and the various masterpieces from the permanent collection, bring this unusually fascinating period in Belgian design history to life.
Sumptuously elaborated panels with Helios on his solar car on the right and Athena on the left, permanent collection Gilliot & Roelants Tile Museum Hemiksem.
https://gilliottegelmuseum.be/wp-content/uploads/2022/06/Capture.png
406
767
Stefan Van Linden
https://gilliottegelmuseum.be/wp-content/uploads/2020/06/logo-tegelmuseum.jpg
Stefan Van Linden
2022-09-09 12:23:15
2022-09-13 20:28:01
New temporary exhibition: "Between two world wars. The Belgian tile from art nouveau to art deco and modernism."